TEAM ABU DHABI'S ERIK STARK WINS GRAND PRIX OF SHARJAH - SHAUN TORRENTE WORLD CHAMPION!
---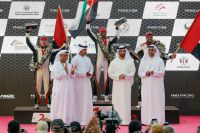 Saturday, 15 December, SHARJAH (UAE): Team Abu Dhabi's Erik Stark drove a faultless race to win the Grand Prix of Sharjah but all the attention was focussed on teammate Shaun Torrente who took the chequered flag in third place to win the UIM F1H2O World Championship for the first time. "What a race. What a restart. I was fighting my mind trying to keep it all together. I was just managing my race. I knew I was in a good spot. I was just trying to get it home. I got a run on the restart on Sami (Selio) and I just let it hang. Thankfully it didn't blow over. I knew I was there. I knew I was safe in fourth if it stayed like that. It's all done now. I couldn't take another day like that!"
For Stark it was an afternoon of very mixed emotions. The Swedish driver did all that he could and didn't put a foot wrong taking his third win of the year from pole but knew a win alone would not be enough. "I didn't hope for too much before, you know. Shaun is a very good driver. I did my race and I could not do any more. I had some bad luck in Abu Dhabi. That was it."
A brilliant second place went to Team Amaravati's Jonas Andersson to end a mixed season with his first podium of the year. "I gave it everything. I crashed on Thursday in free practice and the guys put it all back together and we got second in qualifying. But this morning we had an electrical issue and did zero laps so to be on the podium in second for this team is amazing. It was a tough race and I realised that he was just too fast so I backed off to save the engine."
What promised to be a thrilling title encounter between the three Abu Dhabi drivers' ended early and in disappointment for Thani Al Qemzi whose title hopes came to an end on lap 18 when forced to retire with an electrical problem and ending the season in third overall. "This is racing but I did my best. I made a great start and was up to third before the yellow flag and at the restart I got up there again but just had no luck today,"
It was an explosive start to the race with Stark holding on to P1 from Andersson with Al Qemzi up three spots when the yellow flag came out after Maverick F1's Sutthiphan Sookbuangbon turned over.
With less than a lap completed the boats reverted to their starting order and the restart was a repeat with Stark, Andersson and Al Qemzi in front and holding point, but were soon joined by Torrente who was on the charge and had carved his way up from seventh passing Peter Morin Alex Carella and Sami Selio to get onto the heels of his teammate on lap 4.
Behind the lead quartet and after dropping places at the restart Selio moved up to fifth after passing Carella, his race ending on lap 21, with Francesco Cantando into sixth from ninth ahead of Peter Morin, Erik Edin and Filip Roms.
By the mid race Stark had opened a 4.4s gap to Andersson who was now comfortably 15.0s ahead of Torrente after Al Qemzi's exit.
Stark was in control and slowly pulling away, increasing the gap to Andersson to 5.43 by lap 35, moving 8.86s clear on lap 41 and taking the chequered flag three laps later to win by 12.27s, with Torrente crossing the line 22.95s in arrears.
Behind the lead quartet Selio was coming under intense pressure from Cantando until lap 40 when the Blaze Performance driver pulled off the circuit, with Selio running out the race comfortably in fourth.
Team Amaravati's Erik Edin had a remarkable race forcing his way up from 15th of the pontoon to take the chequered flag in fifth with Philippe Chiappe two laps down in sixth, teammate Morin's race having ended on lap 27, Filip Roms finishing in seventh ahead of Grant Trask and Cedric Desguisne, with Simone Schuft picking up the final point in tenth.
It was a disappointing afternoon for Emirates Racings's Marit Stromoy and Bartek Marszalek retiring on lap 13 and 10.
For team Abu Dhabi it has been an incredible season, its trio of drivers winning every race from pole with Shaun Torrente's third place today giving the team a second successive and fifth world drivers' championship.
UIM F1H2O Grand Prix of Sharjah, UAE - results (top ten..)
1. Erik Stark (swe/*uae) - 0.00
2. Jonas Andersson (swe) + 12.27s
3. Shaun Torrente (usa/*uae) + 22.95s
4. Sami Selio (fin) + 25.89ss
5. Erik Edin (swe) + 28.39s
6. Philippe Chiappe (fra) + 2laps
7. Filip Roms (fin) + 2laps
8. Grant Trask (aus) + 3lpas
9. Cedric Deguisne (fra) + 3laps
10. Simone Schuft (ger) + 9laps
UIM F1H2O World Championship (top ten)
1. Shaun Torrente (usa/*uae) 89pts
2. Erik Stark (swe/*uae) 85pts
3. Thani Al Qemzi (uae) 74pts
4. Peter Morin (fra) 54pts
5. Philippe Chiappe (fra) 42pts
6. Marit Stromoy (nor) 35pts
7. Jonas Andersson (swe) 29pts
8. Sami Selio (fin) 28pts
9. Erik Edin (swe) 25pts
10. Ahmed Al Hameli (uae) 18pts