MAVERICK STARK QUICKEST IN PRACTICE
---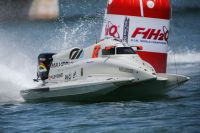 Friday, 17 May, PORTIMAO (Portugal): Erik Stark marked his return to the UIM F1H2O World Championship with the quickest time in today's free practice posting a 43.10s lap and traded top spot on the time sheets in the first hour of the 90 minute session with ex Abu Dhabi teammate Shaun Torrente. "Everything feels very good and it was nice to have a session and go through everything that you planned. And the boat felt very good," Stark said. "We have something left. We went a little safe today and will make some adjustments. Today's was really all about getting as many laps in as we could and for sure tomorrow we will find more."
Stark, who missed the weather disrupted opening round in Saudi Arabia, then signed and re-joined Maverick F1 in April went quickest at the end of the second quarter with a 44.38s before Torrente went to the top with 43.66 and effectively called it a day, Stark setting his quickest time on the hour mark. "Today's we just went out to get a grip on the water conditions get used to the wind," said defending champion and last year's pole-sitter, Torrente. "We ran some really safe laps, I was very happy with the boat and we fight tomorrow. There was no point for us to run a Grand Prix today!"
CTIC F1 Shenzhen's Philippe Chiappe jumped up into third place in the closing stages with a 43.69s lap to win the inter-team battle with Peter Morin who ended the session in seventh. "We are very happy with the first session. It wasn't easy because it was very windy. This was the first opportunity to compare to where we are with the others so we feel in a good position and see how qualifying goes."
Alex Carella delivered a strong showing for Victory Team in fourth ahead of Emirates Racing's Marit Stromoy with Sami Selio rounding out the top six for Sharjah Team.
It was a mixed afternoon for UIM F1H2O 'rookies' Alberto Comparato and Greg Foster in 15th and 16th in their first full session on the water and both running new boats with limited time on the water. "It was not an easy start because there was a lot of wind but I try just to make as many laps as possible," said 21-year-old F1 Atlantic driver, Comparato. "We had a little problem with the trim pump but we fix it. Tomorrow we will run a different engine."
It was a frustrating afternoon for Team Amaravati, Jonas Andersson managing just one lap before his afternoon ended, Erik Edin stopping after just two, both with engine issues.